Welcome to our Marriage Prep 101 Online Private (just between you and your partner) Workshop!
If you are more comfortable in an intimate setting for a more personalized experience, then this option is available for you with one of the Marriage Prep 101 instructors, Michelle Joy, MFT. You may prefer taking the workshop 1-1 if you would like a more individualized VIP experience with Michelle, including personalized attention throughout all of the exercises in the entire workshop. This way, you can receive the same information and benefits as the couples receive in the group workshop, only in a more intimate setting.
Michelle Joy, MFT, co-owner of Marriage Prep 101 and your facilitator for these 1:1 sessions, has been specializing in couples for almost 20 years. During this time, she has observed exactly what couples are doing or not doing that takes them down an unnecessarily painful road as a couple.  This can be prevented by applying our proven tools that are backed by research – and Michelle makes sure that you leave having experienced those tools first-hand, so that you can apply them in your relationship "from this day forward."  The individualized attention you will receive from Michelle in these sessions are invaluable, as she will be able to observe your particular dynamics, pointing out your strengths as a couple and offering guidance for your challenges.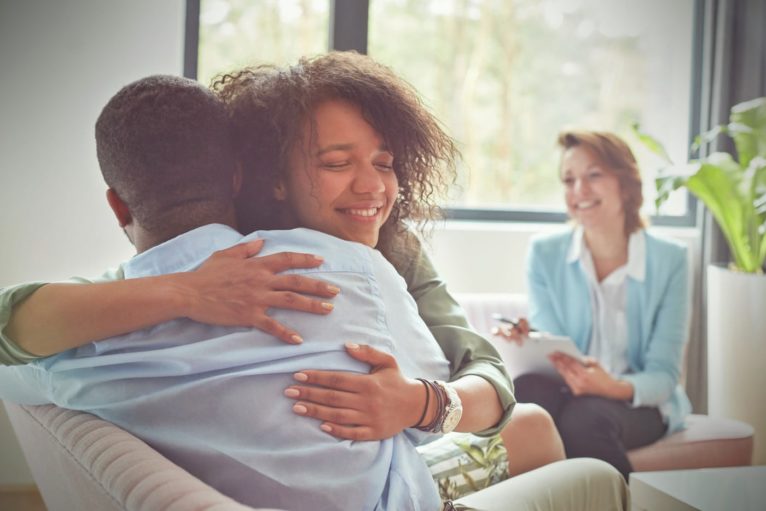 Logistics:
Location: Virtually over a telehealth platform.
Time: Our private 1:1 Marriage Prep 101 Premarital Counseling Program is about 7 hours in length.  We would together choose a full day, Monday through Saturday that works for all of us 9 AM to approximately 5:00 PM, with 1 hour off for lunch (the times and days can be flexible).
Or if you prefer, we could instead meet for 3.5 hours twice.
Includes: 2 workbooks that are physically mailed to your home
To Register: Please contact us here for inquiries about the cost, and submit your $100 deposit to hold your space here. Your deposit will be applied toward the total fee. Once the deposit is received, we will set our dates together.  Thereafter, you and your partner will receive all the details needed to help you prepare and make the most of our time together!
Considering that Michelle Joy, MFT will walk you through the entire program 1:1,  observe your dynamics together and offer insights, guidance and tools specific to your particular patterns as a couple and the areas you need help – it's very affordable compared to what she charges for regular couples therapy. Contact us at i[email protected] for fee information and other questions.
FAQ
1. How is Marriage Prep 101 different from church-based marriage preparation programs?
Marriage Prep 101 is non-religious in content and we are not affiliated with any religious organization. Couples of all faiths and backgrounds are welcome to attend. Instead of relying on a couple's faith and shared religious values to bolster their relationship, we teach relationship skills to address conflicts, build intimacy and enhance commitment. Couples can always add their own shared spiritual and religious beliefs to augment what we teach. We also welcome couples that are interfaith or non religious.
2. How effective is the Marriage Prep 101 Premarital Counseling Program  in preventing divorce?
Nothing can prevent divorce if two people aren't committed to being together. However, several studies both in United States and in Germany show that certain types of marriage preparation classes–those that teach skills –do lower the divorce rate at the five year mark. One study showed that couples who took a course called PREP reduced their divorce rate by 30%.  In another study, different types of marriage prep classes were rated for effectiveness. Again, the skill based programs were deemed more effective than faith-based programs. In general, new research is suggesting that if couples communicate well, learn how to address and resolve conflicts, enhance their commitment while building intimacy and friendship, they will have far fewer reasons to divorce based on surveys of those who do divorce.
3. When is the best time to enroll in the Marriage Prep 101 Premarital Counseling Program?
The best time to take the class is whenever you are most open to learning about your relationship and motivated to work on it. Of course, couples today are very busy–time is among the most challenging issues a couple can face in the first five years of marriage. We find that newlywed couples derive as much benefit to marriage preparation classes as pre-marital couples. However, it is important that you not wait too long because building a healthy relationship requires the very skills that we are teaching.
We also have many couples take Marriage Prep 101 who are seriously dating or pre-engaged.  The latest thinking is that there is a "magic window" of opportunity to learn marriage skills–the year before marriage through the first year or two after marriage. Learning and implementing healthy ways of dealing with each other BEFORE the bad habits take root in your relationship is the underlying rationale for the "early is better" thinking.
4. What does the Marriage Prep 101 Premarital Counseling Program focus on in terms of content?
Throughout the program we discuss compatibility, expectations, family of origin/personality, communication, conflict resolution, and intimacy/sexuality. You will have opportunities to listen, learn, write exercises in workbooks, inquire, and have many structured dialogues with your partner. Our program covers many topics in positive, proactive and practical ways. At the end you will create a vision statement or action plan, called a "Marriage Bond."
5. What if my partner and I have a particular issue we need help with? Can we get help with it in our sessions?
Our Marriage Prep 101 Premarital Counseling Program is a structured program  is most suitable for couples who are committed to one another, feel some issues together, but mostly overall just want to learn tools to have a strong relationship throughout life. Our program consists of various topics such as conflict resolution, family of origin and personality issues, expectations of one another etc. Within each of these categories there is room to discuss what is coming up for you with opportunities to work on an issue as we go along that surfaces. However, it isn't designed to accommodate individual time or to spend significant amounts of time addressing deeper issues.
6. What if my partner and I have commitment issues and questions about whether to get married?
Many couples have questions about whether it is right for them to get married even after the engagement has been announced and the wedding planning is underway. Our program can help sort out these issues or at least offer some information to help understand them better. This makes a lot of sense because it is best not to proceed until you are both fully committed. Remember that marriage tends to get harder the first few years before it gets easier for the long term. Interestingly, the research in this area indicates that about 10% of those who do get married should probably have waited longer before marrying or not at all. Using our Marriage Prep 101 Premarital Counseling Program to help answer the question of "should we or shouldn't we" is entirely appropriate.
7. What are the goals or expected benefits of enrolling in the Marriage Prep 101 Premarital Counseling Program?
In creating Marriage Prep 101, we began by asking this very question. This is what we came up with and we continue to evaluate the workshop based on whether we are meeting these ten goals below:
Affirm the strengths in your relationship
Clarify the expectations you have for each other
Assess your level of compatibility
Understand the role of your family of origin
Identify areas needing change
Learn more effective relationship skills
Avoid the traps of destructive interactions
Enhance your emotional and sexual intimacy
Manage personality and gender conflicts
Create a marriage bond that offers a foundation for marital health and satisfaction

8. What topics are covered in the program?
We will cover: Compatibilities/Managing Incompatibilities, Expectations, Family of Origin, Communication, Conflict Management, Physical/Emotional Intimacy, Finances, and end our day creating your Marriage Bond.
9. Is the Marriage Prep 101 Premarital Counseling Program being offered in person or online in a group setting?
No, at this time our Marriage Prep 101 program is being delivered to you and your partner 1:1. The difference between this and the group setting is that you will receive personalized guidance and attention from Michelle Joy, MFT, throughout the entire experience, which allows us to customize the program to your particular needs. Contact us for questions or to register!