Welcome to our Marriage Prep 101 Online Private (just between you and your partner) Workshop!
If you are more comfortable in an intimate setting for a more personalized experience, then this option is available for you with the Marriage Prep 101 instructor, Michelle Joy, MFT. You may prefer taking the workshop 1-1 if you would like a more individualized VIP experience with Michelle, including personalized attention throughout all of the exercises in the entire workshop. This way, you can receive the same information and benefits as the couples receive in the group workshop, only in a more intimate setting.
Michelle been specializing in couples for 20 years. During this time, she has observed that too many couples have unnecessary divorces that could have been prevented by applying the tools and insights earlier on. Michelle makes sure that you leave having experienced those tools first-hand, so that you can apply them in your relationship "from this day forward."
The individualized attention you will receive from Michelle in these sessions are invaluable, as she will be able to directly observe your particular patterns, pointing out your strengths as a couple and offering guidance for your challenges. It also allows you the opportunity to receive personalized tools for your specific challenges. These benefits aren't as feasible in the group setting.
Cost? If she charged her normal fee for 1:1 couples work, the 7 hours would be $1,995.00 – but for this program the fee is $997 total per couple for all 7 hours. From that perspective and the value that is received, it is quite a savings.
What does the cost include? This includes a welcome packet containing 2 workbooks, a sweet treat for 2, details and logistics describing how to make the most of our time together and Michelle's personalized teaching and coaching throughout. This is a comprehensive program that covers important relationship topics, and is backed by research as well Michelle's clinical experience.  She has poured the best tools and insights into the Marriage Prep 101 programs, and she will be sure to work with you on avoiding the common pitfalls!
When and where do the sessions take place? Almost anytime you like!  Daytime, evenings and weekends are available options. We will meet online, over Zoom
I'd like to move forward. What is the next step?  You may submit the $100 to reserve your space.  Once it's submitted, Michelle will be in touch about scheduling times to meet with you based on both of your schedules. The remaining balance won't be due until the week of your session.
What happens after we are registered?  When the date is close to when we will meet, you will receive an orientation email with details needed to make the most of our time together.  You will also receive a welcome packet mailed to your home containing a welcome letter, sweet treats for 2 and both workbooks.
What can we expect in terms of content and structure of the program? Click here for details and information on Marriage Prep 101
 Is there an opportunity to meet in a group setting verses 1:1?  Yes, click here for details about our Marriage Prep 101 Group Workshop
We hope to see you at Marriage Prep 101 soon!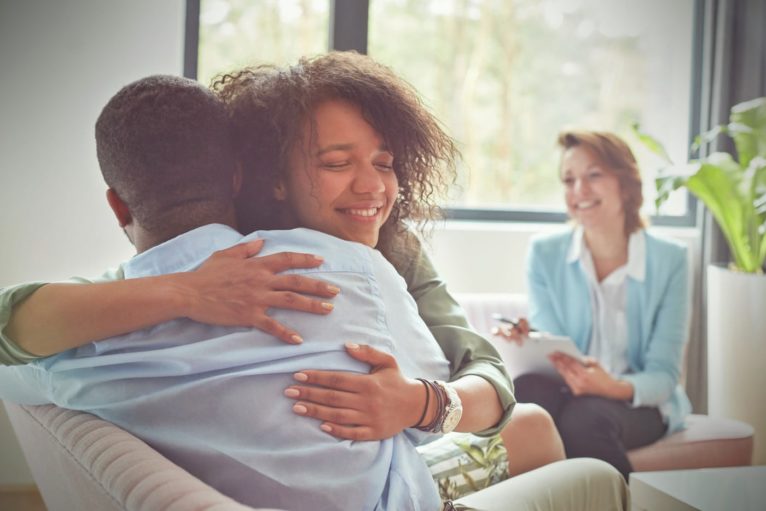 Logistics:
Location: Virtually over a telehealth platform.
Time: Our private 1:1 Marriage Prep 101 Premarital Counseling Program is about 7 hours in length.  We would together choose a full day, Monday through Saturday that works for all of us 9 AM to approximately 5:00 PM, with 1 hour off for lunch (the times and days can be flexible).
Should we take the entire program in one day?  That's up to you, but most couples choose to meet 3.5 hours one day, and 3.5 hours another day to allow for time to rest and process inbetween meeting times.
Considering that Michelle Joy, MFT will walk you through the entire program 1:1,  observe your dynamics together and offer insights, guidance and tools specific to your particular patterns as a couple and the areas you need help – it's very affordable compared to what she charges for regular couples therapy. Contact us at i[email protected] for fee information and other questions.